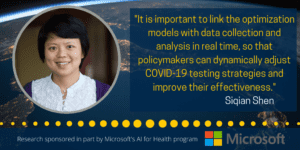 With the recent resurgence of COVID-19 infections, testing has become central to an integrated, global response to the pandemic. Accurate, effective, and efficient testing can lead to early detection and prompt an agile response by public health authorities. Strategic testing systems are critical for providing data that will inform disease prevention, preparation, and intervention. MICDE Associate Director and Associate Professor of Industrial and Operations Engineering and of Civil and Environmental Engineering, Siqian Shen, has recently published an article pin-pointing a number of pivotal operations research and industrial engineering tools that can be brought to  the fight against COVID-19. One of the key lessons from her research is the importance of expanding the availability of COVID-19 testing and making the resulting data transparent to the public as anonymized, summary statistics. This enables informed decision making by individuals, public health officials, and governments.  
Based on these high-impact findings, Professor Shen is striding ahead to design a comprehensive COVID-19 testing framework to efficiently serve the urgent needs of diverse population groups . A grant from Microsoft's AI for Health program, part of the AI for Good initiative, will provide credits to use Microsoft's Azure service.  With this cyber resource, Professor Shen and her team will integrate and coordinate decision-making models and data analytics tools that they have developed for testing on a Cloud-based platform. In addition, their AI framework is dynamic, and collects daily infection data to improve testing-related decisions. Such a platform could have significant impacts on three major problems that exist with current testing design strategies:
1) Where to locate testing facilities and how to allocate test kits and other resources.
2) How to effectively triage different population groups through effective appointment scheduling.
3) How to visualize real-time testing capacities to better inform the public and serve ad-hoc needs of patients. 
Prof. Shen's research will integrate AI techniques with optimization to dynamically refine existing testing design methods for gathering and analyzing data from unexplored populations and regions around the globe. The development and refinement of these new models with the support of Microsoft Azure will create a transparent, data-informed testing system that will allow public health and government authorities to make agile, data-driven decisions to aid in the prevention, preparation, intervention, and management of COVID-19 and other outbreaks of infectious diseases.
Siqian Shen is a  Professor of Industrial and Operations Engineering, and of Civil and Environmental Engineering at the University of Michigan, an Associate Director of the Michigan Institute for Computational Discovery & Engineering, and an affiliated faculty member in the Michigan Institute for Data Science. Her research group works on both theoretical and applied aspects of problems by combining stochastic programming, integer programming, network optimization,  machine learning and statistics.