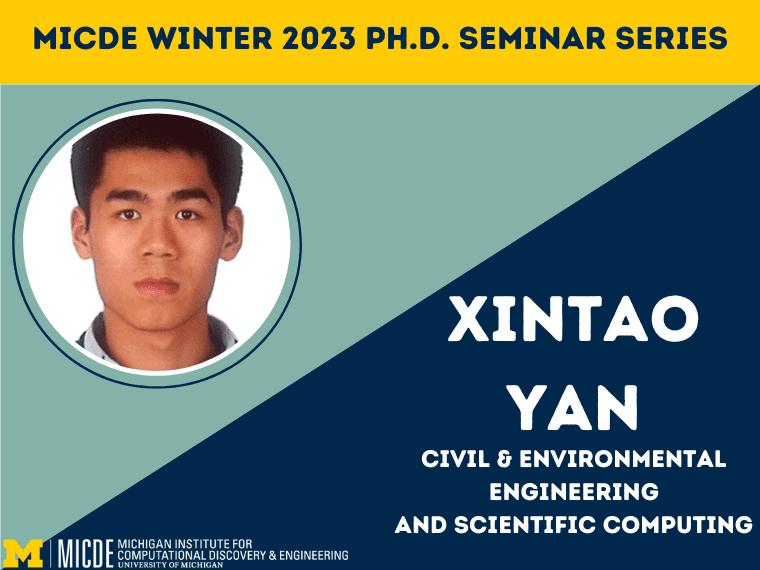 The Ph.D. in Scientific Computing program is intended for students who will make extensive use of large-scale computation, computational methods, or algorithms for advanced computer architectures in their doctoral studies. This seminar series showcases the breadth of research covered by the program. 
Featured Speaker:
Xintao Yan, PhD Candidate,
Civil and Environmental Engineering

and Scientific Computing

Xintao Yan is currently a Ph.D. candidate in the Department of Civil and Environmental Engineering at the University of Michigan, Ann Arbor, advised by Professor Henry Liu. He received his bachelor's degree from the Department of Automotive Engineering at Tsinghua University, China in 2018. His research interests are mainly about the safety of connected and automated vehicles, including naturalistic driving behavior modeling and automated driving system evaluation.
Simulating Naturalistic Driving Environment for Autonomous Vehicles
Simulation provides a controllable, efficient, and low-cost venue for both developing and testing autonomous vehicles (AV). But for simulation to be an effective tool, statistical realism of the simulated driving environment is a must. In this talk, we will introduce methods to simulate naturalistic driving environment for AV testing purposes.
---
This event is part of MICDE's seminar series featuring Ph.D. students in the Scientific Computing program. This series is open to all. University of Michigan faculty and students interested in computational and data sciences are encouraged to attend.
Questions? Email MICDE-events@umich.edu