The Michigan Institute for Computational Discovery & Engineering and the University of Michigan Center for Academic Innovation have partnered to launch a Massive Open Online Course (MOOC) titled Problem Solving using Computational Thinking. The idea for this MOOC arose from the team's recognition of the ubiquity of computation.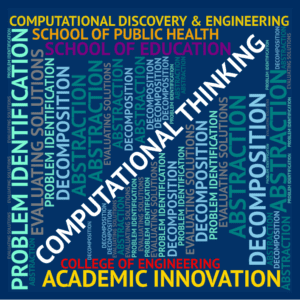 However, the developers were equally keen to distinguish this offering from MOOCs on programming, and to instead highlight how broader computational thinking also makes its presence felt in somewhat unexpected domains. The MOOC is organized in a series of real-world examples that includes how, using computational thinking, it is possible to help plan and prepare for a flu season, track human rights violations or monitor the safety of crowds. The process of computational thinking that this MOOC focuses on ranges from problem identification, through abstraction to evaluating solutions. Problem Solving using Computational Thinking seeks to introduce students and teachers to the systematic thinking needed to conceptualize a problem with the intent of eventually using some computational tools to solve it
The developers of this MOOC are drawn from the School of Public Health, the College of Engineering, the School of Education and MICDE. Problem Solving using Computational Thinking is available in Coursera through Michigan Online. To learn more please visit online.umich.edu/courses/problem-solving-using-computational-thinking/.