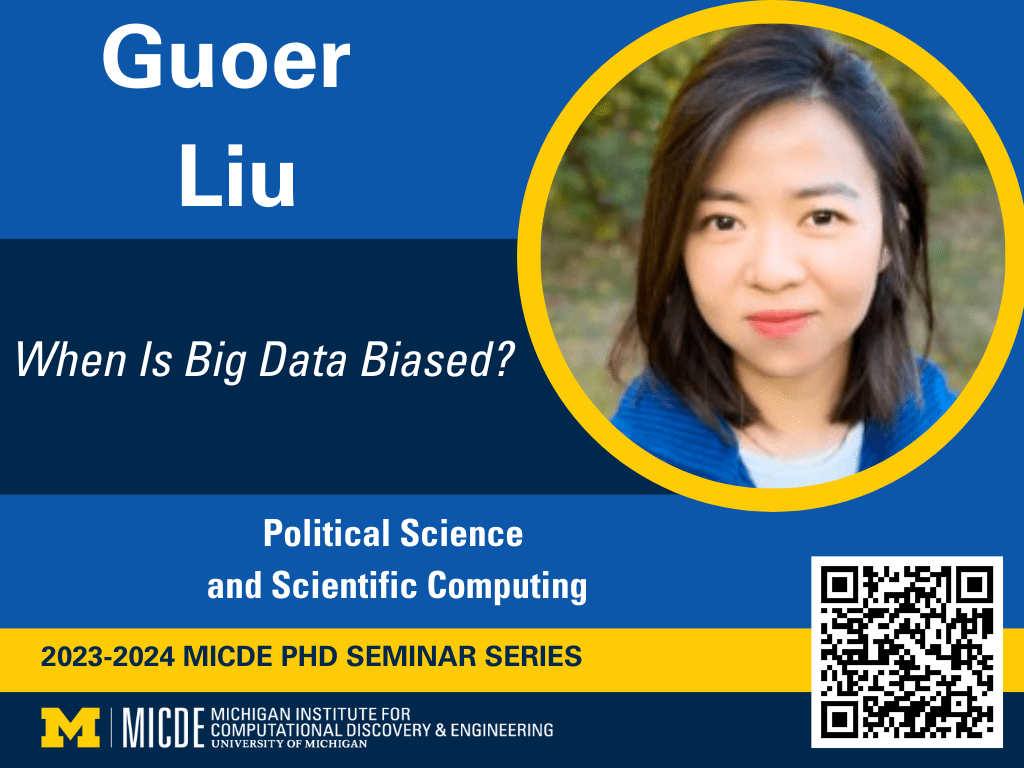 The MICDE PhD Student Seminar Series showcases the research of students in the Ph.D. in Scientific Computing. These events are open to the public, but we ask that you register to attend the seminar. If you have any questions, please email micde-events@umich.edu.
Register to attend this seminar
When Is Big Data Biased?
Using automation technology to gather and disseminate information to the public is commonly viewed as a government-led effort to enhance oversight and address the principal-agent problem in bureaucracy. However, focusing on the expansion of China's automatic ambient air quality monitoring network in the last decade (2012-2022), I argue that technology is being utilized as a tool to emphasize optics but overlook the substantive problems. I illustrate the idea with multiple original georeferenced data sets on the automatic monitoring network, pollution sources, and satellite-derived vegetation density across time and space. I show that, while the automation initiative has improved the data quality in some ways, the undersupply of automatic monitoring stations, over-represented clean locations, and non-random missing pollution records continue to contribute to inaccurate air pollution information. As long as political incentives to manipulate information persist, actors can mold technology that operates without human intervention to serve their own interests.
Guoer Liu, Ph.D. candidate in Political Science and Scientific Computing
Guoer Liu is a Ph.D. candidate in Political Science. Her dissertation project, ''From Oversight to Overlook'' investigates how political determinants distort the technology infrastructure and create seemingly credible but inaccurate information to the public.
Advisors: Mary Gallagher, Charles Shipan